Statistical Register of Economic Subjects (RES)
We've created a system for Czech Statistic Office that is recording economic entities operating in Czech republic. System RES is part of basic integration tools of ČSÚ. Register keep records from admin sources (Business Register, Register of trade licenses) and statistic sources (data collected by statistic research). Managment of the register is distributed throughout the Czech republic. Outcomes of RES are used as documentation for statistic research transmitted to external customers. Part of the output of the RES is also providing data to  public via the Internet.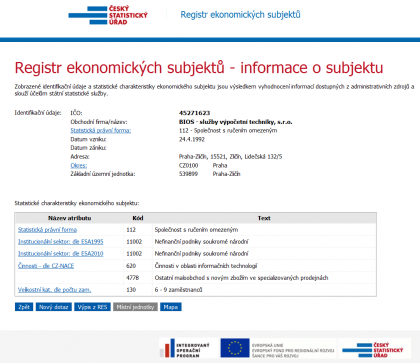 Register is formed by central database with almost 2,5 million records, managed by Oracle database system. Client workspace for on-line managment data are spread throughout  ČSÚ territorial units in Czech republic. A tool for accessing data from Internet/intranet is divided into 3 levels of data access rights. These permissions define data selection methods.