Register of census districts and buildings (RSO)
We are developing a system of registration of all buildings and statistical territorial units for the Czech Statistical Office. This system is designed to support the preparation and presentation of the CZSO results based on territorial selection. The register follows the first version of the Register of Census Districts, which was used to prepare the census data in 2001 and 2011. RSO registers all residential and non-residential buildings in the Czech republic with their complete hierarchical territorial and administrative delimitation. The register is directly connected to the basic register of territorial Identifications and adresses (RÚIAN). The Registry provides services for the preparation of sample surveys and for the verification of census tools. It also provides a databse for the presentation of the results in text and graphic form, among other things, it serves as an information base for the GIS-SLDB system. The registry is central with a distributed two-tier administration.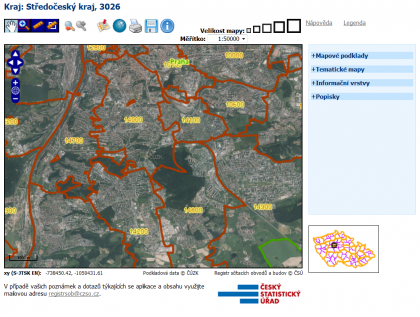 The RSO application includes client workplaces for distributed databse managment from CZSO workplaces throughout the country. It also contains a client part for the presentation of data via the Internet/intranet.
The presentation of data for the state administration and the public via the Internet is also included in the application and is accessible on the CZSO website.